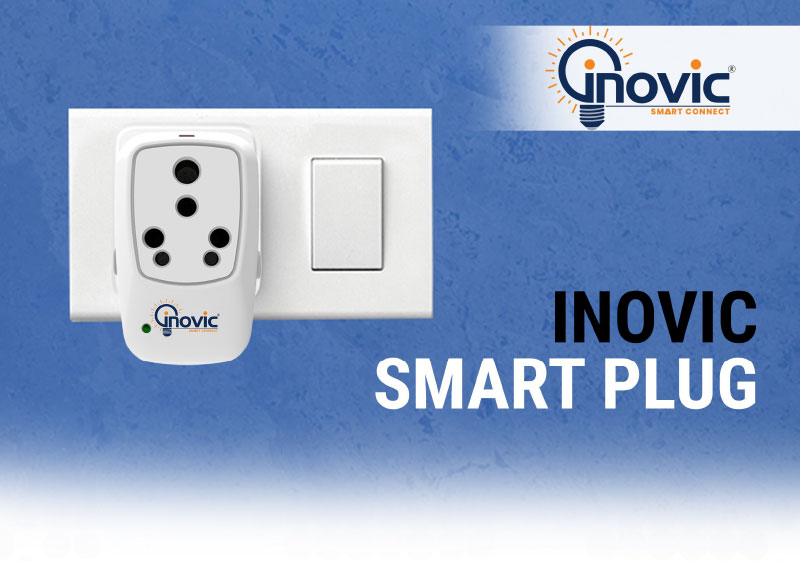 NOW AUTOMATE ANY APPLIANCE WITH ONE PLUG
We have seen a variety of devices that help in automating an appliance, but the installation of the devices can be quite hectic. Hence we came up with INOVIC Smart Plug. It is a device that auto-mates any appliance, sucha as AC, Geyser, TV and more, rated up to 16A. With this plug, you will be able to control any appliance from anywhere in the world with just your smartphone. Forgot to turn off your AC or geyser, no need to worry as the 16A INOVIC plug enabled with Wi-Fi, connected to the appliance, will help you check the current state and turn off the appliance.
FEATURES
Retrofit design: Smart Plug can fit into any 16A Indian Socket.
Robust design: Advanced firmware and rugged hardware design for long-lasting performance
Built-in S-Wi-Fi: Equipped with secure Wi-Fi that ensures appliance control from any location
Voice Command: The automation app is compatible with all types of voise assistants such as Siri, Bixby, Alexa, Google Assistant and more
Surge Protection: The smart Plug can detect low and high voltage and cuts off the power supply accordingly.
Timer: Can create a timer to cut off the power supply after a certain amount of time.
Workflow and schedules: Create schedules and workflow so that you won't have to touch your smartphone or give a voice command.
Monitor power usage: you can monitor how much power a particular appliance is consuming and use it accordingly.
TECHNICAL SPECIFICATIONS
Power input: 240V AC, 50/60Hz
Total Power Input: 16A
Maximum Resistive Load: 2500W
Maximum Inductive Load: 1000W
Typical standby power : <0.8W.
Maximum Current per Channel: 16A
Power measurement accuracy: ±5W
Operating distance from Wi-Fi router: up to 30 meters* (depending upon router and its placement)
Operationg Temperature: 0°C to 70°C
No of Channels: 1
Relay Channel: 1
Socket type: Indian model
Plug type: indian 16A model
Dimensions: 61.8mm x 99mm x 42mm
Pin Standard: BS 546 Type M (Indian standard large three-pin)
Socket Standard: BS 546 Type D & M Combo (Indian standard large and small three-pin)
Communication Wi-Fi: Conncects to 2.4 GHz, Wi-Fi 802.11 b/g/n
INOVIC Smart Plug is a light and compact device that can be used anywhere; you can use it while travelling and configure the device within minutes. All you need to do is plug-in the device, switch on the socket and click on the button of the smart plug and you are ready to configure the device. With the voltage detection feature and a ceramic socket inside the device, it is the ultimate portable smart device that will help you automate any appliance anywhere you go.
For more information on the product, contact us at info@inovic.co.in